Joseph Walker Shihan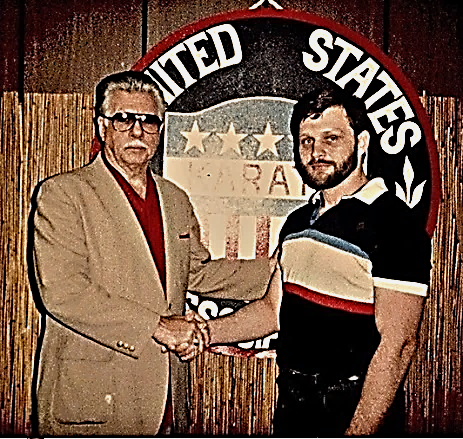 In 1960, Joseph Walker began his training in judō in Peoria, IL at 8 years old. He went to his dōjō wanting to learn karate, but he was told kids were not allowed to learn karate. He trained in judō for around 8 years earning his ikkyū (1st degree brown belt). In 1968, as soon as he was allowed, he began training in karate. Mr. Walker began teaching and assisting from nearly the beginning of his karate training. Mr. Walker was a staple at the dōjō, never missing a class for the first two years and very rarely after.
As a shichikyū (yellow belt), he travelled to the United States Karate Association headquarters in Phoenix, Arizona and met Robert Trias. Robert Trias was the first man to teach karate in the USA. Walker shihan became a loyal student of Trias ōsensei travelling to Phoenix AZ, to the USKA International Seminars and travelled throughout Asia with him.
Walker shihan started the Academy of Okinawan Karate in 1979 from the dōjō he was a student in. Mr. Walker has grown Shuri-ryū through his dedication to his students. His dōjō began with 23 students and within the first month doubled that number to 46 active members. Mr. Walker has taught thousands of students during his decades of running a dōjō.
Trias ōsensei appointed Walker shihan to Assistant Chief Instructor of Shuri-ryū before his death in 1989. International Shuri-ryū Association Chief Instructors unanimously promoted him to Chief Instructor in 2003. He was the first to move to this position since Trias' death. In 2019, Robert Bowles ōsensei promoted Walker shihan to the rank of kudan or 9th degree black belt. Throughout his over 50 years of martial arts training, he has many accomplishments and credentials including:
3 time world karate champion in master's division kata
2 time world grand champion in koshiki
9th dan in Shuri-ryū
2nd dan in Kodokan judō
Certified instructor in Haganah F.I.G.H.T. under Michael Lee Kanarek
Appointed as Assistant Chief Instructor by Robert Trias
Chief Instructor of Shuri-ryū
Earned rank of "tachi" in 1st USKA kobudō testing
International referee
Many trips to Okinawa to train in the birthplace of karate as well as other Asian countries
Owns four dōjō that teach Shuri-ryū
Member of the Robert Bowles International Budō Society