Haganah F.I.G.H.T. (Fierce Israeli Guerilla Hand to Hand Tactics)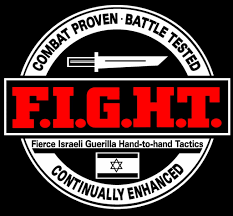 Haganah is an Israeli military self defense system that can be categorized as no-nonsense. Born on the battle fields of Israel, where there is no second place, Haganah meets and exceeds today's needs for an effective self defense system. Haganah addresses everyday common street attacks as well as defending against knife and gun encounters with quick and definitive techniques to help you survive a violent encounter. Haganah is comprised from the 4 styles of Kapap, Lotar, Isardut and Krav Maga to bring you a proficient blend of self defense tactics to better protect yourself from today's threats. When violence strikes, be the last man standing.
Peoria Haganah meets two days a week – Monday and Thursday at 7PM CT. We also offer ground combat classes and kickboxing classes to accompany the Haganah classes. Call us today at (309) 692-2499 to schedule a trial class today. Haganah is for adults (18+) only.
Our Haganah program was begun by Joseph Walker shihan. Mr. Walker trained with Michael Lee Kanarek and other Israeli commandos. After earning his Instructors certificate, he introduced Haganah F.I.G.H.T. to the Peoria area. One of the first students over a decade ago, was Mr. Pat Golden. Mr. Golden now teaches the weekly classes as well as other self-defense programs around the area. Mr. Golden has many other Haganah experts to train with and help teach students.